Get ready to support Toronto's black community while also supporting animal rights, the planet and your body! There's nothing quite like summer in The 6ix as there are countless festivals and events to attend. If you've been looking for an opportunity to support the community while also discovering and exploring some vegan eats, this is your chance!
Toronto Black Vegan Festival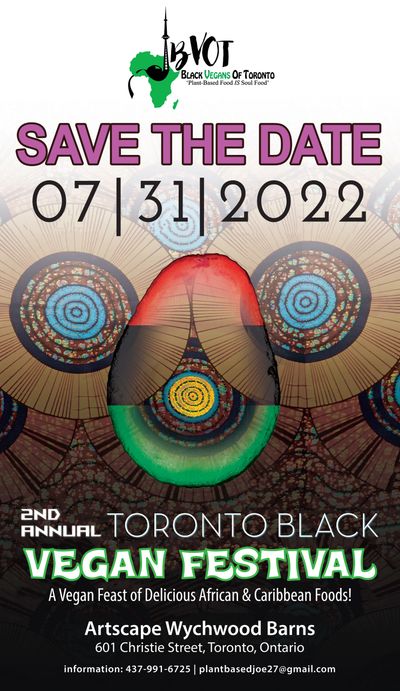 The Toronto Black Vegan Festival is taking place next month and your tastebuds aren't ready! The festival, which will be hosted at Artscape Wychwood Barn, will feature multiple vendors who have put a vegan twist on traditional African and Caribbean classics!
From traditional eats turned vegan to plant-based health and wellness products, this festival will have it all. Veganism isn't just about the food we consume but also about avoiding the use of animal products or supporting products that have been tested on animals. The festival will also have cooking demos to aid everyone from the experienced vegan to the new and curious vegan or non-vegan in making some delicious plant-based meals.
A panel will also be discussing the new documentary "They Are Trying To Kill Us" for those interested. The documentary is described as "a new groundbreaking documentary from Executive Producers seven-time NBA All-Star, Chris Paul and 7X Grammy winner, Billie Eilish. The film features notable influencers from the fields of Hip Hop, medicine, sports, entertainment, policy, and politics weighing in on the singular most deadly threat to American society that mainstream media doesn't want to talk about," according to their site.
The Toronto Black Vegan Festival will take place on July 31st from 11am to 8pm and the last hour will include an old school dance party. Although admission is free, you must register in advance here.