Having a disproportionate amount of wealthy friends comes with a lot of pressure. It means destination bachelorettes and bachelor parties are a given – as are over-the-top destination weddings. It means that restaurant choices tend to be on the pricier side and bills that are split evenly at group dinners regardless of what you ordered. It means buying baby shower and birthday gifts at the expense of your grocery tab. It also means not being able to keep up in certain aspects.
Basically, it's easy to feel like Kristin Wiig's character in Bridesmaids or Jennifer Aniston in Friends with Money. But it doesn't need to be like that.
What I have realized is that the best way to maintain your relationship with your wealthier friends is to be honest about your situation. The reality is that most of your friends actually understand your struggle – at least to a degree. Now that we're all officially adulting and paying our own bills, everyone (rich or poor) is well aware of how much it costs to live in Toronto; it doesn't seem to matter how much you make, most people could use more.
The thing is, it's all relative. Even some of my richer friends can't drop dollars the way they once did thanks to mortgage payments on their homes (that Rosedale and Forest Hill real estate doesn't come cheap), the private school tab and the loss of income when many realize – as so many of us now do – that the 9-5 grind isn't for them.
Of course, there are others who have absolutely no clue how real the struggle is and they think it's totally normal to return home from a shopping trip after casually dropping $2500 at Holt Renfrew. But that's all the more reason to be honest with them. If they're really your friends, they'll appreciate your candor.
If your friends know about your financial situation, it will make for less uncomfortable times all around. You won't feel the pressure and they won't invite you to their pricier outings (unless, of course, they're picking up the tab). Even if your friends are picking up the tab more often than not, there are ways you can reciprocate that don't involve going tit-for-tat financially. For example, if you have killer culinary skills, you can invite them over for dinner. If your job involves perks like party invites or free concert tickets, invite them along. Hell, bring them a coffee the next time you stop by their (beautiful) home.
If your friends know about your financial situation, it will make for less uncomfortable times all around.
Of course, once you set foot across their perfectly manicured lawns, it's natural to feel a bit of jealousy over their impeccably designed homes, their fancy cars, crazy vacation pictures and designer shoes that sit in the front foyer. But there isn't anything constructive about that.  
The threat is that you'll spend more by association and buy things to make yourself look better. Don't. What you can't do is try to keep up…and go broke in the process – especially if you've kissed your free-spirited 20s goodbye a long time ago. It just doesn't make sense in the long run. If your friend suggests the Ritz Carlton for dinner, suggest a cheaper alternative. These days, some of the coolest restaurants definitely aren't the priciest (in fact, it's often the other way around).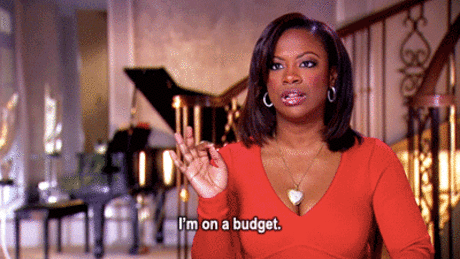 You have to also accept the fact that you won't always be able to relate and that you may value different things. For example, one girlfriend of mine makes it very clear that she doesn't understand my soft spot for the grungy, poorer artist set. You also need to know how to handle their personalities.
Studies have found
that rich people, for example, have higher levels of narcissism.  While this is obviously not true for everyone – and I don't see it with many of my wealthier friends – narcissists aren't the easiest to be friends with (or date, for that matter).
Either way, there are worse problems to have. A Business Insider piece from a few years back suggests that if you want to make more money, you should become friends with people with a lot of money. Eighty-six per cent of the rich people in the referenced study made a habit out of associating with other success-minded individuals. The idea is that your net worth mirrors that of your closest friends.
In the meantime, if you're feeling bummed about your financial situation, keep in mind that most millennials have less than $1000 in their savings account.
RELATED LINK: How to Accept Handouts from your Parents While Maintaining your Dignity
Have anything to add to this story? Let us know in the comment section or tweet us at @ViewtheVibe.