Nowadays, everyone's got a side hustle that helps them pursue their passions. And while the service industry has gotten a bad rap, not everyone working in it hates it. View The Vibe's Sarah Brown tells us why she's not leaving the industry anytime soon. 
In an idealistic world, I make a modest living as a freelance writer with words in publication one, two and three. This is true on a vanity level, but the financial reality isn't rocked solid. Don't get me wrong, writing pays for chunks of rent and cheap frills like the $28 tab at Pretty Ugly and kitschy bomber jackets. But I can't solely depend on freelance writing to pay for basic needs like coffee, hot showers and hump day cocktails. That's why I've always counted my blessings as a child of the service industry.
Admittedly, there's one itsy-bitsy problem: the service sector suffers from middle child syndrome. Long before the city turned into a hotbed for small business, chain restaurants and mega corporations exaggerated a stereotype of a sad employee in an ugly (or sexist) uniform serving terrible customers for long hours on minimum wage. Thus, the service industry earned a reputation as a fast-cash income for drop-outs, expats, foreign workers and confused twentysomethings looking for casual responsibility between high school and entry-level employment. There was no reason to stay in it because the work was tedious and the people generally sucked.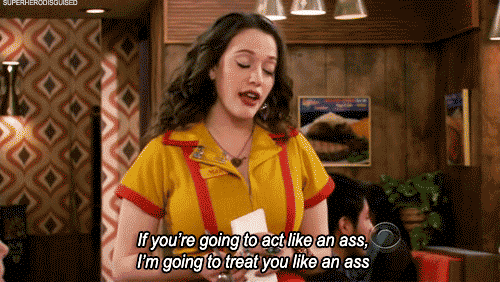 Thank god the service industry rebranded. Nowadays, smaller businesses empower employees with schedule flexibility, influential mentors, and casual black uniform (if any at all). The service sector has become selective. Employers aim to find staff members with a lifestyle that represents their brand inside and outside of work. Employees also feel less disposable because they're vetted by credible business owners with choosy hiring practices. I'm proud to work at Dynasty because it's a plant store that people know about. My boss is awesome and the customers are cool. People want my job.
As small businesses persuade new trends, millennials began to shift their focus on self-made success and vanity endeavours. Chefs double as media personalities, DJs are bartenders, musicians are baristas, writers are retail associates and everybody sells a zine. The service industry is the launching pad for the multi-tasking middle class. Fewer people define themselves by a single career, more respectably by passion projects and the establishments they work for. Service work is the backbone of Toronto's creative class. It's an earnest way to earn money, casually network and rub shoulders with the elite. It's a job that grants me a steady income and satisfying social interaction as an introverted writer-type. I'm blessed.
The service industry is the launching pad for the multi-tasking middle class as fewer people define themselves by a single career
Don't believe me, huh? Even the customers have changed. Look around at any local bar or coffee shop. You might spot the "regulars." A Churchill phenomenon coined for the no-fuss, loyal and local patrons of the neighbourhood (Cheers 2.0). The concept isn't new, but the attitude has revived a yearning to socialize with service people in places within a community. Customers are more willing than ever to chummy up to the people servicing them because it represents power by association and access to the community. After all, it's not about a transaction anymore. It's about being seen with the right people at the right time. Good service, like good tips, is optional.
On Instagram, the industry has been pimped out with sex appeal and be-your-own-boss appeal. The new era of patriotic service people are lifestyle advertisements for the places they work for. Outsiders can easily connect the dots between business owners, staff members and the community around them. The most disturbing part: the "sad" human beings of the service industry are…having um, fun? It's an attractive lifestyle, and beyond that, it's a visually appealing career choice for anyone who isn't tied to a desk all day. Service people are at the heart of the city's happenings and their social media reflects a lifestyle that others are envious of. Outsiders desperately want in on it.
There is so much change in the industry. But with better wages, cooler customers and a stronger emphasis on the hyper-local community, there's still a negative stigma attached to working in the service industry. Every week, friends of mine warn me to "get in and get out", like if I don't find a job outside of it, I'll poof into a supreme loser by thirty. Now in the thick of my twenties, I'm not leaving the industry anytime soon. I see the value in a job that grants me access to a highly desirable culture of creative and hardworking people. There's decent money, great tips, family, and at the heart of it — simplicity. I show up to work, help customers, clean up after myself and clock out. That's it, it's over.
Now in the thick of my twenties, I'm not leaving the industry anytime soon. I see the value in a job that grants me access to a highly desirable culture of creative and hardworking people
My theory is that everyone is so hellbent on criticizing the service industry because they're terrified of being an outsider. The service industry represents a big chunk of hardworking people who've chosen a career path that's accessible, humbling and socially rewarding. When people tell me to leave the service industry, I take a big breath before telling them to sit on my middle finger. Like any job, it depends on where you work and who you work for. I work for places that have values and a genuine interest in the people of the neighbourhood. I'm not lost, confused or biding my time before a "real" career comes my way.
In case you haven't cared to notice, the service industry has come a long way from ugly uniforms and cheesy corporate morale. It's a family with extraordinary benefits. Stop telling me to leave it became I'm "too good" or "too smart". My job reflects who I am and I'm not ashamed of it.
RELATED LINK: The Rise of the Freelancer: How to Be Your Own Boss 
Do you agree with these views on the service industry? Let View The Vibe know in the comments below or tweet us @ViewTheVibe.