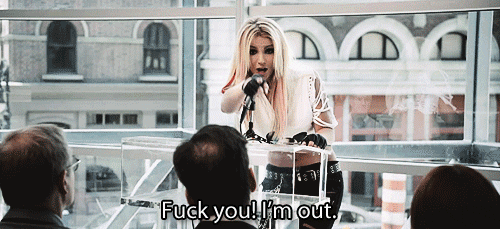 Vv Magazine's industry insiders and undercover scenesters fill you in on the best first-hand gossip from Hollywood, the media, and everything in between. A column that will make you lust for more… who are we talking about? We don't tell – but we see and hear things and like you, we gossip about it. Check in every Wednesday for the latest from Scene & Heard!
It's Britney, B***h and I'm Gonna Sue You.
Juice Factor 9/10
TMZ reports that Britney Spears is about to lay down the law with all naysayers, starting with In Touch magazine. The publication is rumoured to be printing off a story as we speak that will reopen the case about Spears' mental stability, or lack thereof. But we love Britney and she's done so so well for herself. She's turned her life around. She's hitting us, one more time. What's the juicy story? Well, In Touch claims that Britney was seen laughing to herself and talking in a fake British accent at the MTV Video Music Awards earlier this month. Her lawyers are going to nip that rumour in the butt, they sent a scathing letter to the publication to hold the press or else. If this story gets published, Britney and her team of lawyers will sue. Definitely.
Lil Wayne Tweets Goodbye "I'm dun"
Juice Factor: 7/10
If anyone out there still cares, Lil Wayne is done with the rap world. Well, he's been done with the rap world cuz he really hasn't spit any kind of fire other than basic children's nursery rhymes in his last track appearances. But, just to be sure, he tweeted over the weekend that he is done with a lot of things. The rapper took to Twitter to say he ain't looking for sympathy, just serenity – which, is probably the best lyric he's written since Lollipop. So why the early plans for retirement? Weezy has been beefing with Birdman and Young Money for some time now and fans speculate that he's threatening to retire just to get out of his contract.
ain't lookin for sympathy, just serenity

— Lil Wayne WEEZY F (@LilTunechi) September 3, 2016
Blind Item: Spiraling Toronto Journalist Strikes Again
Juice Factor 9/10
This intelligent, outspoken, and well-respected Toronto-based journalist is not one to back down from a fight – however, this media figure also does not know when to put their foot in their proverbial mouth. Not a stranger to controversy, it seems that every time someone disagrees with this journalist's point of view, they take to social media, launching defamatory crusades against the offender. We've heard that one of their latest victims among MANY might take legal action, suing for defamation of character. If you can't take being critiqued or people disagreeing with your opinion, is it right to hit below the belt and fabricate lies? We think not.
Beyonce Birthday Bash
Juice Factor: 9/10
If you were on social media on September 4th, you were probably inundated with pictures of Beyonce. Seems like everyone did their due diligence to tweet and Instagram their best version of a birthday wish to Queen Bee. Bae? Baybe? Yonce? Sasha Fierce! Well, her fellow celebs also cleared their evenings to spend one night only of worshipping their goddess. She threw the bash of all bashes, a 70s themed Soul Train party, over the weekend. Everyone showed up in their best disco fever outfits. Even Chloe x Halle, Bey's proteges, were there in full force. P. Diddy, Kelly Rowland, Solange, June Ambrose, Alicia Keys, and Kendrick Lamar all gathered round to wish Bey a happy 35th birthday from the heart.
Teresa Giudice vs. Joe Giudice
Juice Factor 7/10
On last night's Labour Day special episode of Real Housewives of New Jersey, as the Giudice family plans for Joe's upcoming incarceration, it seems that Teresa is going to have a lot of woes to get through if she's going to float her household. But just don't ask your husband about the bills. Oh god, no. Especially not when he's taken to the drink. In the most recent episode, Joe threatens to "f**king smack" Teresa's head against a wall, after drinking heavily. Why? She just asked her husband about paying the bills. Obviously, Joe is under extreme stress. But threatening violence is never the answer! It was hard to watch the Giudice family go through the episode. Good thing Joe is currently locked up behind bars, IRL.
Chloe Vs. Kim
Juice Factor 8/10
First of all, never EVER go against Kim Kardashian or any Kardashian or Kimye, ever. If you didn't learn anything from the T-Swift feud, Kim always has the receipts. In a feud that happened in March, Chloe Grace Moretz, took to Twitter to criticize Kim for posting a nude photograph on social media. Well, Kim responded by saying nobody even knows who Moretz is. The worst part? Kim's joke really set Moretz into a whole self-reflection. She's now pulled out of all her future film plans and is having a "come to Jesus" moment, according to her latest interview in The Hollywood Reporter. She's learned a lot about when to keep her mouth shut. Again, never go against the media machine that is Kardashian. They will chew you up and spit you out. Best to just agree or keep silent.
RELATED LINK: Scene & Heard: Media Darling Drama, Love at Last + more
What had your blood boiling and your mouths gasping from this week's Scene & Heard column? Leave us your thoughts in the comments below or tweet us at @ViewtheVibe.