Interested in floating? Vv Magazine's Lisa Lagace gave the anxiety battling, stress reducing technique a shot. Read on to see how her experience went and if she'd ever try it again. 
If you're unfamiliar with floating, let me explain. It's when you lay down in a giant tub or enclosed tank filled with water and anywhere from 800 to 2000 pounds of Epsom salt. This abundance of salt is why it's called floating – that much salt in water will automatically make your body float no matter how hard you try to sink.
It has a reputation as a new-age technique for battling anxiety and reducing stress, allowing you to fast forward your meditation practice as it cuts off all senses but that of your mind, making it easier to stay in the present moment.
Because the tank is pitch black inside, and because you are floating in water that is set to the natural temperature of your skin, it is easy to forget about your body. You feel absolutely weightless, left with only your thoughts.
As someone who struggles with anxiety, I was excited to try this technique and see if it could help me enjoy meditation – something I had been trying to do on my own – but my social media addicted, easily distracted, anxiety riddled self was finding it quite hard to sit still and think about nothing for 10 minutes.
I had watched the Joe Rogan piece on floating and was incredibly intrigued. It sounded like a way to experience a kind of hallucinatory high without actually getting high, which seemed ideal to me. I was hoping I would experience the visions people seemed to have when in the tank.
Instead, I learned that I should probably never take hallucinatory drugs.
During my first session, I kept the tank light on, and got used to the sensation while having what amounted to a very relaxing nap in water.
The second time, I was determined to do it right. So I shut the light off. And the darkness was such that it felt as though my body didn't even exist. It was just my mind. My being. My thoughts.
At first, I thought of peaceful things. Wisdom about my life and the path I'm on seemed to come easily. But the longer I stayed in there, the more my mind started to create repetitive images. I recognized this as the hallucinations people had talked about. At first it was just splotches coming toward me in various colours, repeatedly dashing toward me in quick succession, but then, the blobs began to take shape. Spider shape, that is.
Yes, that's right. While laying in water in a dark tank, all I could see was a mass of spiders racing toward me. Tarantula looking spiders, to be exact. I tried hard to focus my energy to change the shape into something less terrifying, to no avail. I turned the light on inside the tank and took a break.
As I sat there, I refocused. I had scheduled a 2 hour float and likely still had over an hour left. I wanted to have a positive experience. I tried to think good thoughts and focus on the imagery I wanted to see.
I turned the light off and laid back down again.
The racing blobs returned to my mind's eye, and started to morph. This time, I saw sharks. Huge sharks swimming toward me as though I had been thrown into their ocean covered in blood.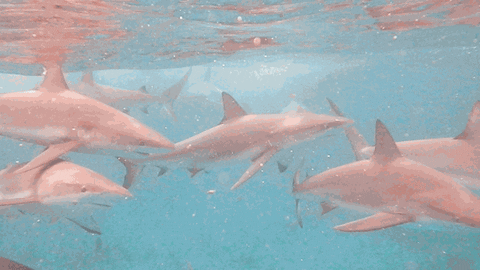 I sat up and turned the light back on. I decided to finish the float with the light on. Hallucinating just isn't for me, I decided.
While it is possible that I was having an off day – and I probably should have tried again – I haven't been back since. I'm not sure floating is the right option for me since I left feeling more anxious than I was when I arrived. I still have faith in what floating does for those who love it, and I am not opposed to trying it again someday. But for now, this experience has solidified my choice to stay away from hallucinatory drugs – because apparently my brain is set to manifest spiders and sharks – and I have no interest in hanging with either of those creatures for an extended period of time ever again.
RELATED LINK: Got Stress? Smash it Out at the Rage Room 
Have you ever tried floating? How was your experience? Let Vv Magazine know in the comments below or tweet us at @ViewTheVibe.