The cocktail scene in Toronto is vibrant, inventive, and ever-growing. While many classic cocktails got their start in metropolises like New York City and London, England, Toronto is also the birthplace of many unique and wonderful drinks. They might not be internationally recognized just yet, but they're here for Torontonians to enjoy. 
RELATED: Meet the Distiller Leading Collective Arts and Learn Why He Loves to Use Fresh Citrus in his Recipes >>>
The Toronto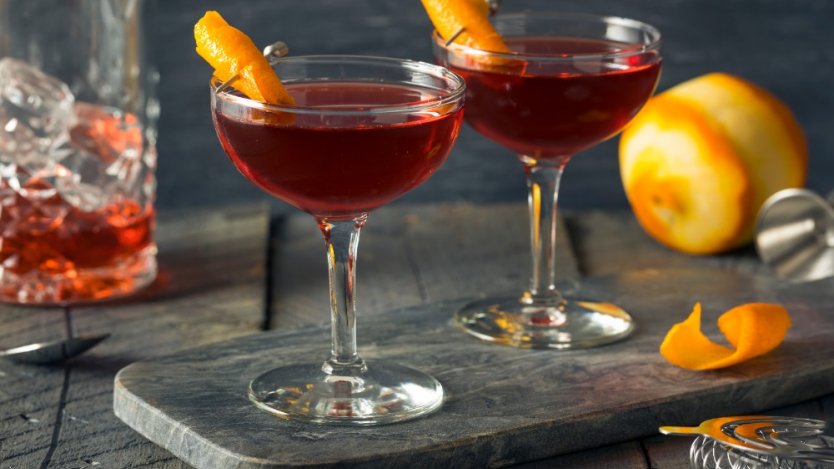 The Toronto- the cocktail and not the city- is relatively unknown. This drink is very popular among cocktail bartenders and enthusiasts in the city, and yet it does not feature on many menus. Surprising, since its name inspires local pride and its origins date back 100 years. So, what exactly is it? The Toronto is a stirred cocktail, served up in a Nick and Nora glass. It contains Canadian rye whiskey, Fernet-Branca, simple syrup, and angostura bitters. It's a rendition on the old fashioned, with more bitter, anise flavours thanks to the inclusion of Fernet. This drink is not for the faint of heart, much like the city itself. 
The City on Fire
The City on Fire is a book, potentially a metaphor, and a very popular cocktail at Famous Last Words in the Junction. If the name seems unusual for a drink, that's because Famous Last Words is a literary themed cocktail bar. The bar top is made of over 11,000 Scrabble tiles, and every cocktail on the menu is named after a book. Stirred with ice, served over a large cube, and expressed with an orange zest, The City on Fire is a real crowd pleaser. It features a blend of two scotches, mezcal, Cointreau, simple syrup, and angostura bitters. This drink packs a powerful punch; it's boozy and smoky, and the perfect choice to warm you from the inside out. If this drink sounds a little too booze-forward for your tastes, you're in luck. The bookish menu features over a dozen other custom cocktails that can be enjoyed right here in Toronto, by the cozy fireplace and the overflowing bookshelves of Famous Last Words. 
Sailor's Mojito
Bar Chef is another Toronto cocktail bar that promises a unique and delightful experience. As stated on their website, their objective is "to challenge the conventional notions and boundaries of the cocktail experience." Their Modernist Series features cocktails prepared in the kitchen by chefs. One of their bestsellers is the Sailor's Mojito, which contains spiced rum, fresh lime, muddled mint, lime and vanilla air, cryo mojito pears, coconut gels, and something they call beach essence. The whole concept of Bar Chef is insanely creative and unique. They feature a menu filled with cocktails that can only be found in Toronto, and that can only be found at Bar Chef. 
Surprise Cocktails
Civil Liberties has a host of cocktails that you can only get in Toronto, but there's a catch: they don't "really" exist. You see, Civil Liberties doesn't have a menu. Instead, the cocktails they serve live inside the minds of their talented mixologists. The concept here is very fun and whimsical. Instead of reading through a list of cocktails and analyzing the ingredients and descriptions, you must put your trust in your bartender. You can tell them what you like- sweet, savoury, citrusy, bitter, boozy- but ultimately, they get to choose your libations for the night.