Thinking the whole "monogomy" thing might not be for you? Why not give a couple (or 3 or 4) relationships a shot? Vv Magazine's relationship and sex expert Jen Kirsch fills us in on the polyamory lifestyle. 
Last summer I was up in Muskoka at a cottage with my dad for a couple days, the same couple of days that both The Bachelorette season finale and The Bachelorette 'After the Final Rose,' aired. And as we all know, nothing says bonding like a father and his adult-daughter like sitting borderline silently in front of a TV watching The Bachelorette together.
And so there we sat, onesie-clad (ok fine, he wasn't in a onesie) watching the final two one-on-one dates Jojo had with the final two bachelors contestants (lets call a spade a spade).
"So wait, she's kissing both of them?!" – my dad asked, confused and disoriented.
"So wait, she's introducing both of them to her parents?" – my dad asked, in utter shock.
"So wait, she's going to the fantasy suite with him, too?!" – my dad asked, deplorably disgusted.
"So wait, she's in love with both of them?!" – my dad asked, genuinely confused, shocked and possibly even in awe.
Yes, yes, yes and yes, daddy-o. And she's not the only one.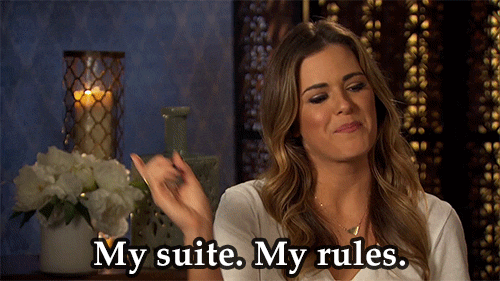 Dating apps (and general getting around and/or meeting people) have offered us the opportunity to meet many-a-matches all the more easily. And with meeting more matches, comes having more options. And with more options, comes the opportunity to date various people that bring out various parts of our personality/sexuality/emotions. So The Bachelorette may be kissing them and she can also be more than kissing them, because with these different partners she likely feels loved in such different ways, both offering her different things she's looking for in both herself and in a partner.
Sure it may be awkward AF to see it on our TV screens, especially with your parent, but just because it's a show doesn't mean it's a one off situation. In fact, many people are doing just that with the permission of their partners, albeit not on a reality tv show on prime time watched by millions.
We call this say-what? type of relationship, polyamory.
So what is polyamory exactly? The (online) dictionary defines it as: the practice of, or desire for, intimate relationships where individuals may have more than one partner, with the knowledge and consent of all partners. It has been described as "consensual, ethical, and responsible non-monogamy".
Essentially, someone has a happy, loving relationship (aka: the "primary relationship,") and they and their partner have an open agreement to have another (or multiple) relationships outside the primary one, in which they share.
So why would someone want to do that?
Because for them, it comes naturally. They don't see relationships in any other way. For them, non-monogomy is a way of being and way of life. It also gives the couple the certainty and comfort that they're with their ultimate partner, but still allows them to experience other people and connections.
Why get involved with a poly prospect? It's easy. There are no pressures or expectations outside of whatever your arrangement chooses to be; whatever ways you choose to define yourselves. You're not waiting around on days and nights you're not together, a monster to your phone hoping they reach out and that every single solitary sound is coming from said phone.
Maybe this is for you. Maybe it isn't. But if you find yourself in love with two people at the same time and feel like you need to make a decision on who to keep, I'll leave you with this godly quote (and one of my faves) from Sir Jonny Depp: If you fall in love with two people, go for the second one. If you loved the first enough you wouldn't have fallen for the second.
Please no hate mail or @ me, wives.
RELATED LINK: This is Why Some Couples Have More Sex Than Others 
What do you think about polyamorous relationships? Leave us your thoughts in the comments below or tweet us at @ViewtheVibe.