In this week's, Yeah, That Happened

, we look at a few stories about those who peace out the second their expectant, little selves don't get what they want, or instead, 'Hit it and quit it.'

To them, may we all say wholehearted (and in unison), "BYYEEEE, bae!"

Cowboy boots and cigarettes
They met after he got off stage at his alt-rock show at a local venue. After a good few minutes of talking (aka falling in absolute lust/not being able to take their hands or tongues off one another) they left together and went for late night eats. They talked. They flirted. They made out. They went back to her place. They passed out. They woke up the next morning, her just after him, as she felt him rub up against her with more than one body part. In her newfound sober state, she denied his advances, suggesting they sleep a bit longer. For one whose ego, bass and other instruments are used to being stroked, he wouldn't have any of it. Dude got up, strutted to her washroom, and it wasn't until she saw him stomping across her hardwood floor (she came to and opened her eyes and peeked up to see two cowboy boots – that were V MUCH SO made for walkin'), that she realized he was peacing TF out, without saying goodbye; without getting his D F'd. "Dick," she thought, realizing she wouldn't get any, as she dozed back off into a peaceful and much needed sleep. It wasn't until she woke up four hours later and went to the washroom that she saw it. It being the cigarette in her toilet, alongside his (after-a-night-of-drinking, full-fledged, canary yellow) urine. Dude must have took it hard (or lack thereof) that he got rejected that, not only did he smoke in her smoke-free artist West Queen West compound, but he added an extra fuck you by taking a piss in her toilet (seat up!) and leaving it all there for her to find, a treasure trail to wrap up what never got wrapped in the first place. How's that for a good, ol' leave behind? Not the bottoms up she quite had in mind the night prior after watching him bang it out on stage. Record scratch.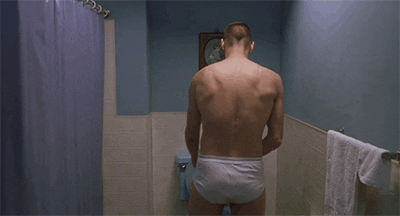 Abiding by the rules
They met long, long ago at a mutual friend's cottage when they were in their twenties. They added one another on social at the time, but were both in committed relationships so left it at that. Ten years (and a few 'likes' back and forth on Instagram) later, the girl (now woman) slid readily into his DM's… "Are you single?" she blatantly and oh-so-brazenly asked. "I am," he replied instantaneously. The rest is history. They went from DM > to text > to going on a few dates > to dot dot dot. On the to-be-expected third date (cough, cough, choke, choke), she invited him over to her place. Score! They played tunes. They played darts. They drank. They smoked. They hooked up. And as the sun came up and it neared 6am, she beckoned him – albeit not adamantly – to her bed. "I shouldn't," he said, shit-eating grin on his face, as he slid his wet fingers up her open thigh. "I need to be mysterious and play hard to get," he continued. Knowing 'people do what they want to do, when they want to do it,' she wiped herself up, put her clothes back on, and walked him to the door to bid him adieu. The next week, she received texts on the daily from him; your typical pen-pal stuff (Hey! [Insert emoji here] kind of thing). They made tentative plans, all of which he pushed aside (like the thong in which she wore that star-crossed eve) and nothing came of it (again, that is – wink wink, nudge nudge, moan moan). See that's the thing with men who're on the rebound following a three-or-so year on-and-off relationship. They have ALL the love, but have no love to give. They're all game to be game, and yet they find the need to play games to keep the prize – but, lest we remind you: Those who keep their eye on the prize are the only ones who win the game. Check, mate.
My funny Valentine
It was the most cursed day of the year for all those who met on a dating app just a couple weeks prior and who didn't know where they stood in one another's lives, only that they'd been spending a lot of time in it (mind the pun!). It was February 14th and for these two – who a week prior vaguely discussed that they'd do something together – nothing came into fruition on the day-o-love. The day came and went, with barely any contact; with barely any reference to the fact that on one drunken eve prior, he had told her he knew how he would spoil her so, and celebrate, at that. Come the dreaded hour of 1am, after many libations and it on her mind all night, she shot him a text inquiring about his whereabouts; inquiring about meeting up and having a "night cap." By the time they set a plan it was last call, and they met up at a local. He had a couple beers. She had water. They planned to go back to her house for a sleepover. They got to her place. They started hooking up, and… fireworks! Home run! Blast off! And as fast as he came, he went. He was equally good at both. Because within a few minutes after his Standing O performance, he uttered the dreaded "I can't do this," before grabbing his signature black leather jacket, and black beanie, putting them on (coincidently while putting her off) and walking out. He never looked back. And she now just looks forward.
"Tip" of the week (or weak, in this article's theme)
It's all well and good to come and go. Such is life, and one's sentiments change after they take a load off, (so to say?). But instead of committing to a plan to hang afterwards given there may or may not be any follow through, test the waters, go home together and see where it goes. If one sets up expectations and doesn't follow through, they immediately become a write off. Next!
RELATED LINK: Yeah, That Happened: The Craziest First Dating Encounters of Singles in Toronto this Week
Have a crazy and/or totally bizarre dating story that the world needs to hear? Email info@viewthevibe.com to be featured on an upcoming series of Yeah, That Happened.